Dublin –> Paris
Bismillahhirahmanirahim
Alhamdulillah masuk ke hari 11 di bumi Eropah..setelah berkelana ke negara omputeh dengan bahasa yang kita pun senang nk berkomunikasi, hari ni akan ke negara yang mmg mencabar komunikasinya haha..Parighhhhh (Paris)
Selepas Solat Subuh kat Airport Dublin, saya dan Didee say goodbye kat Huda (TQ sangat2 huda,,sediakan kami tempat tido, blanja makan huhu, bawak berjalan..very appreciated..) saya dan didee masuk ruang check in boarding..Huda akan naik bas balik ke umah dia dia Cork.
itinerary
As usual strict giler aer lingus ni check..makanan brahim saya di rampas alasan liquid dan meat..sedey betol..ada la 3 box dia rampas daripada 8 saya bawak (=-)..lg 6 tu dia x selongkar habes ke dalam2 bag..klu dia seluk dalam lagi sure habis semua dia ambil..
pas da masuk area tempat menunggu, didee beli air coklat butler lagi..dia mmg suka kot haha..tepat jam 6.55 am , Flight kami Aer Lingus (milik negara Ireland kot) kami berlepas ke Paris Kota Cinta katanya..mari kita tenguk bagaimana cintanya tu hehe.. perjalanan ambil masa 1 jam 50 minit..cam biasa tidooooo…
Cam biasa tempah awal flight guna apss Skyscanner, so ni je flight paling murah nk ke Paris..saya tempah bulan January..harga dia cam fix, x berubah2 if beli lagi awal..cuma kalau beli lambat (last minute) harga mmg mahal la..
Sampai di Airport utama di Kota Paris ni (Charles De Gaulle-CDG) Terminal 1, berpinar2 mata cari arah tujuan… Sampai je kat sana, kitorang cari stesen keretapi dulu. Stesen keretapi berada di Terminal 3 (stesen bas berada di Terminal 2). Sampai je di Terminal 3, kitorang pon pergi ke ticket counter untuk beli Paris Visite Pass Zone 3 for 2 days usage. Jangan terus pergi ke mesin sebab mesin tak jual Visite Pass. lepas keluar airport kena naik tren tu ke main stesen.. kat sini kami beli tiket untuk 2 hari pengangkutan awam.. €27 untuk tiket return Paris to Airport dan 6 tiket tuk harian cam tiket pegi balik hotel dan tempat2 menarik sekitar bandar paris..lepas kira2 dgn didee dan staff tu mencadangkan ambil yang tu..so tu la yang paling murah sbb kami tak plan lama pun kat Paris ni..just 2 hari shj.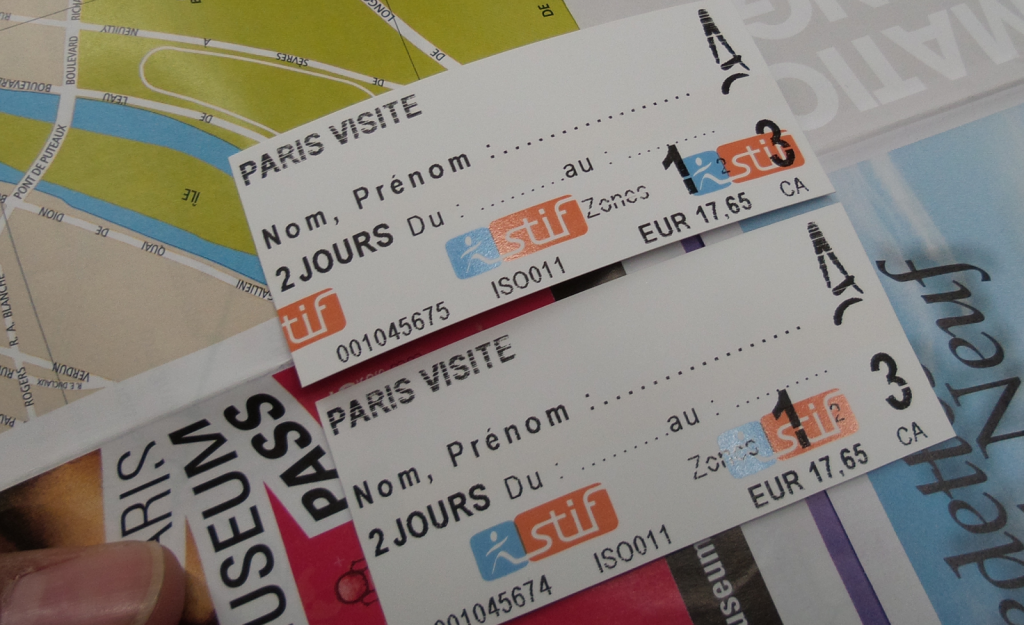 tiket dia kecik sgt, make sure jgn hilangkan..
dari main station kami naik metro (ketaapi) ke Oberkampf tempat penginapan kami, untuk letak bag barang bagai..berat ooo..kami guna apps City mapper untuk arah tujuan naik public transport dan walking distant..very helpfull.. memang recommended. 5 star hakak bagi..
keluar je dari metro bawah tanah tu..eh eh da nampak Hotel Mary's yang kami stay mlm ni..heaven.. Ini 1st Hotel setelah berhari2 saya menumpang rumah student hehe..so cara nak book hotel..search je guna web booking.com.. x yah bayar dulu..book je, da sampai hotel baru bayar..itu pun masa kita tempah, kena baca hati2. kadang2 ada hotel minta pembayaran terus.. sampai je hotel..staff dia mmg peramah tahap gaban. english dia pun hebat dari saya haha..so kami tinggalkan bag dulu di bilik dia sediakan sbb nak check in awal lagi. baru kul 11pg camtu.. cuaca mmg x menyebelahi kami..suran, hujan dan sejuk angat..
pastu naik balik metro..sila la paham dan katam maps paris ni haha..pening hakak..tp kami sedikit abaikan maps berselirat tu..just guna google maps dan city mappers apps je..
1st kami jejalan kat Arc De Triomphe, kena hati2 kat sini..ramai scammer, "do you speak english" tetibe je ada gadis2 bertanya suruh isi survey la bagai..so cakap je "tidak"..dia tak paham pun..kat sini cakap je melayu..depa lagi bahagia kita cakap melayu dari english..elakkan scam2..x pasal2 melayang duit ko kena paksa bayar itu ini..lepas snap2 gambar..kami berjalan menuju ke Eiffle Tower..
Sejarah Arc de Triomphe boleh baca di sini
sambil jejalan..nampak ada cam ala-ala pasar malam kat sini..ada jual mcm2.. so kami singgah, konon nak cari paella (nasi goreng sepanyol..tp didi cam was was sebab masakan dia bercampur tempat dgn yg vege..so cari roti Croissant..murah je..6pcs dlm €1. pastu berjalan2 lagi dengan hujan renyai2..
pastu jejalan menyambil2..jumpa kedai souvenir..singgah beli tshirt sehelai dan fridge magnet..sambung jalan lagi..
The Love Lock Bridge – Paris, France
hah da nampak da tu..excited plak..
kenapa saya berlenggang kangkung, siap singgah sana sini la , sbb saya da book tiket nak naik eiffel tower jam 3ptg..so siang masih muda..
Sampai sana standby tetibe dengar ramai penjual2 keychain akan tegur korang dengan bahasa melayu haha..cara mereka nk menjualkan..
sementara nak tunggu giliran naik dan explore Eiffel Tower..kita minum dan makan dulu Croissant..serius sedap giler..gebu gebas ..pulak tu makan kat Eiffel Tower lagi laaaaaa..perghh romantik..tetiba bila pandang kiri tgk didee terus hilang romantik..meh nak cari abam France..
ok meh kat sini nak cite camne saya book tiket nk naik tower ni..kene beli awal n online sbb klu on the spot beli mmg nanges beratur panjang n buat uols give up..klu tanya saya perlu ke naik..bg saya PERLU..sbb best..
G website dia untuk pembelian tiket naik menara Eiffel ni.. klik sini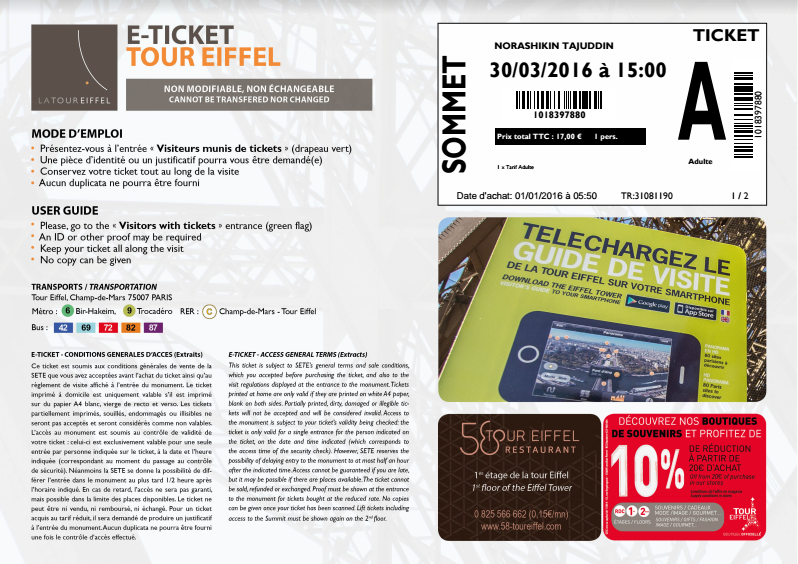 lepas da buat pembayaran..dia aka email dan uols print je..sampai sana tunjuk je kat mamat "Bonjour""Merci"..
saya beli awal 2 bulan lebih camtu..oleh sebab saya pilih kul 3, maka kul 3 baru dapat masuk dan naik..
seriau masa naik ni..dia ada 2 level..ni nak ke 2nd level..belum top lagi..
lepas pusing2 2nd level, beratur utk naik lift ke top plak..
tgh dok ralat aka asyik mengambil gambar maka saya x nmpk didee..puas pusing2 x nmpk dia..Ya ALLAH..apekah..
pastu pikir nk turun ke tak?..pusing lagi sekali..x jumpa gak didee..ok turun, maybe dia pun tgh cari dan turun gak..so ada 2 laluan lift ni..so saya pilih lift di mana saya naik td..berharap didee pun akan pilih yg sama..da turun bawah tggu dan cari2 dia..x jumpa..hampir sejam MIA..huhu nak nnges rasa malu plak dgn abam2 askar yg berkeliaran kt situ..so tunggu dan tunggu, okay x le jadi..saya da keluar dr eiffel tower menuju ke metro untuk balik hotel sendri..maybe didee pun pikir yg sama..pastu hati rasa x sedap sgt nk balik hotel..patah balik..pastu dengar "cikguuuuu"…saya terus peluk dia..didee cakap sambil gelak2 "patut kat Eiffel Tower bertemu cinta..ni kita berpisah hahaha"..
sambil jejalan nk ke metro dok bebel2 camne leh lost la apa la..klako tol..
walaupun tren dia buruk cam nk roboh tapi ketepatan masa dia mmg 5 bintang..Paris agak kotor skit..tu je nk cakap klu nak banding dgn Sheffield dan Ireland..Kota London pun kotor skit sbb byk pelancong kot..
sampai hotel makan Croissant lagi sbb jejalan x jumpa kedai halal ke arab ke..pas mandi turun bawah tanya staf hotel ..kedai DIY laundry..so dalam sejuk2 malam tu..saya dgn didee mengangkut baju2 nak basuh..jalan kaki je..dalam 200m
Apa yang kita mampu harapkan bila g laundry self service dan sepatah haram tak paham apa yg di tulis.. sorang pakcik tolong. Dia cakap france kami cakap english+melayu mmg macam ayam n itik.. akhirnya kami jumpa penyelesaian haha..i love that pakcik haha..bersungguh2 nak tolong. Abam ensem buat x tau je.. erm mentang2 la bkn kendall jenner aku ni.. ok bye..
Cara dia lain cam kat mesia Mesin dia link dgn satu mesin induk dia nk habaq hang haha
Didee balik hotel jap solat. saya tunggu sampai siap..sejuknya x menahan..boleh demam klu org x cukup zat besi ni..
Malam lepas kemas2, kami tidur..penat sangat..di tambah lagi dengan drama hilang menghilang tu..